B. Reith has been one of my favorite artists for a few years now.
I've told you guys
about
a few of my favorite
s of his songs, like "Mess" and "You Should Know." More than two years ago,
I reviewed
one of his albums... I can't believe it's been so long.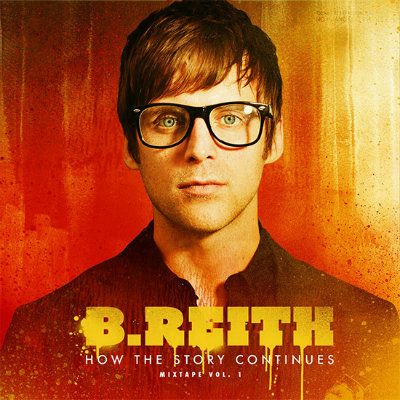 About a week ago, B. Reith came out with a new mixtape. The best part is... it's available for free download on his website,
www.breith.com
, so what are you waiting for? Go get it! It's great. B. Reith never disappoints. He is such a talented lyricist, singer, and rapper. Most importantly, his lyrics have a depth that reflect the heart of Christ. I love that. I could listen to his music all day. Some of B. Reith's songs are clearly about his relationship with the Lord; others are clean, fun, and refreshingly wholesome.
Recently, I was telling a friend about B. Reith and they asked what I liked about him most. I replied that I love upbeat rap and I also love chill music that helps me to relax and feel at peace. B. Reith gives both. He's the only artist I know that can pull off both rap and chill music at the same time. And his lyrics, a huge deal to me, are
fantastic
.
"How the Story Continues," B. Reith's latest, consists of nine tracks. A few are remixes of some of his songs from his last album. Others are brand new.
"After the Beep" is catchy and fast-paced. B. Reith and Isaiah Tate rap throughout the majority of the song, which is pretty awesome. I absolutely love his remix of "Simple Days." Night and day from "After the Beep," B. Reith croons "Simple Days" and adds a little bit of rap here and there. I actually like B. Reith's remix of "Lonely Hearts" more than I do the original, which surprised me. "Tippy Toe" is so much fun. It's one of my favorites of these new songs. "Get Out My Life" is soulful and heartfelt. "Life of an Artist 1.0" made me laugh. B. Reith is brutally honest and maintains such positivity and humor, even when things have clearly been difficult for him. I was pumped that B. Reith made a remix of "Made for More," which features Lisa Gungor and Lecrae (two amazing artists as well), simply because I love the song.
Basically, B. Reith is pretty awesome. I'm constantly recommending his music to my friends. I've never met this guy. I don't even know where I found his music, but it's art. He has true talent. Because of this, I thought I would encourage you, my friends, to check out this new mix tape. Support this guy. His lyrics are honest and sincere, he loves the Lord, and he has genuine talent. What is there not to like?